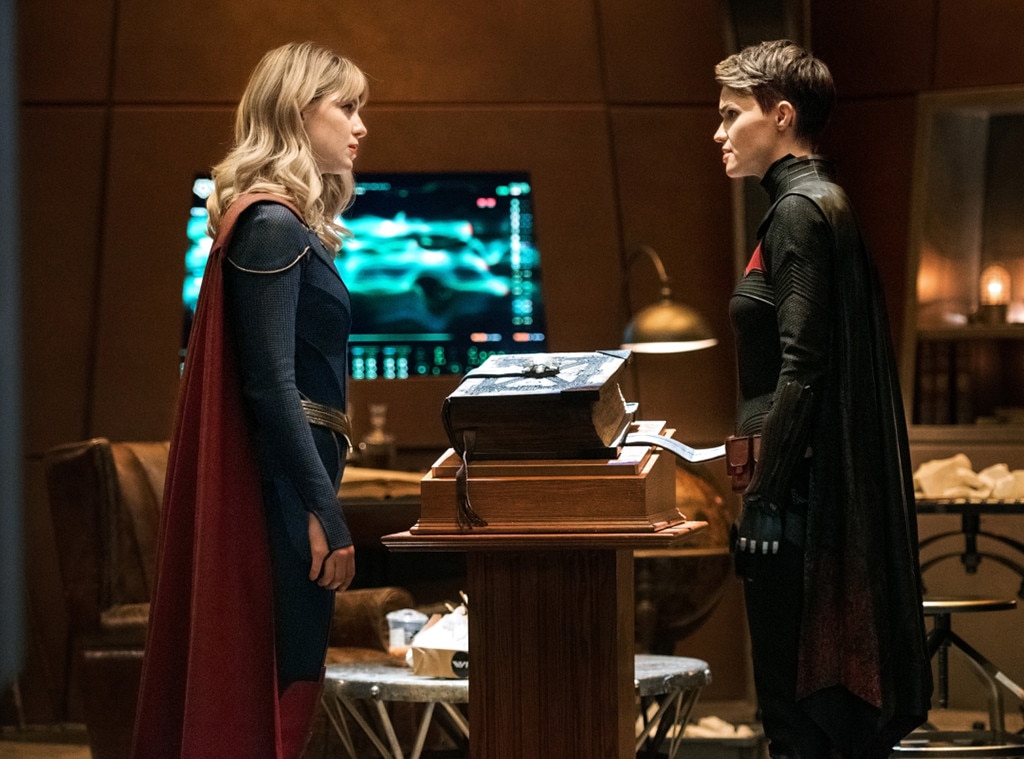 The CW
Everything in the Arrowverse is about to change forever.
Crisis on Infinite Earths, the five-show crossover uniting Supergirl, Batwoman, The Flash, Arrow, Legends of Tomorrow, Black Lightning, and about a thousand other DC superhero properties, premieres this Sunday, and at least based on what we've seen, it's unlike anything that's happened on TV before.
Basically, an alien being called the Anti-Monitor is threatening to destroy (as in, completely and totally erase from existence) entire worlds. Earth-2 and many others are already gone, but there's a chance to stop the destruction by uniting heroes from all over the multi-verse. Sacrifices will be made, people will die, and things are gonna be a little different when the smoke clears in January.
Unlike crossovers of years past, which were sort of self-contained and didn't affect the regular stories of the shows involved, this crossover will have ripple effects all over the Arrowverse. We got the scoop from the showrunners and executive producers at a press screening, as well as a few cast members on everything from how it came together to what you might get to see…starting with exactly how much of an impact this event is about to have across all five shows.
First, a little backstory.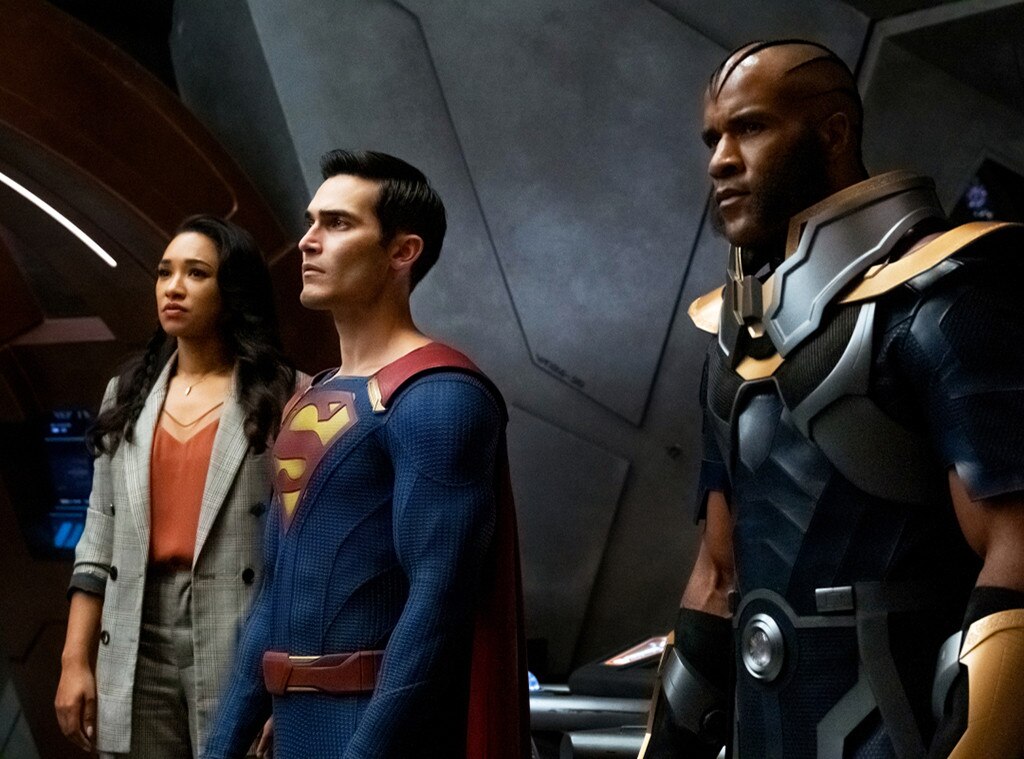 The CW
Crisis on Infinite Earths is based on a comic by the same name that essentially reset the entire DC universe. Barry Allen and Kara Danvers were killed, and all of the multi-verse was merged into a single universe. The CW version has been promising the deaths of Oliver Queen and Barry Allen, and will feature cameos from other DC superhero movies and shows, including Smallville, Superman Returns, Batman: The Animated Series, Birds of Prey, and many more (including some we still don't even know about).
There will be nods to the comic itself, but you don't really need to know anything about it (or about most of the Arrowverse shows) to join the party!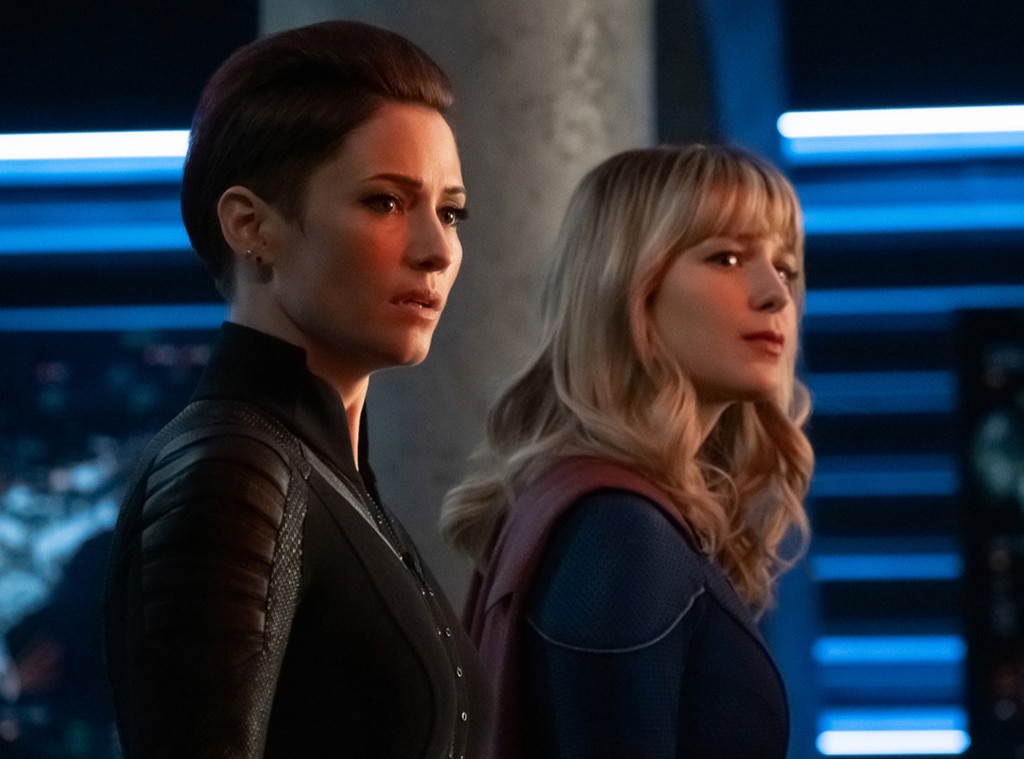 The CW
Supergirl
"For us, it really resets a lot of what's happening on Supergirl, the second half. That's another thing that was challenging about this crossover that's different from the others is that it's a really kind of huge event and impacts everything going on on the show, so it's fun to see what happens," said showrunner Robert Rovner.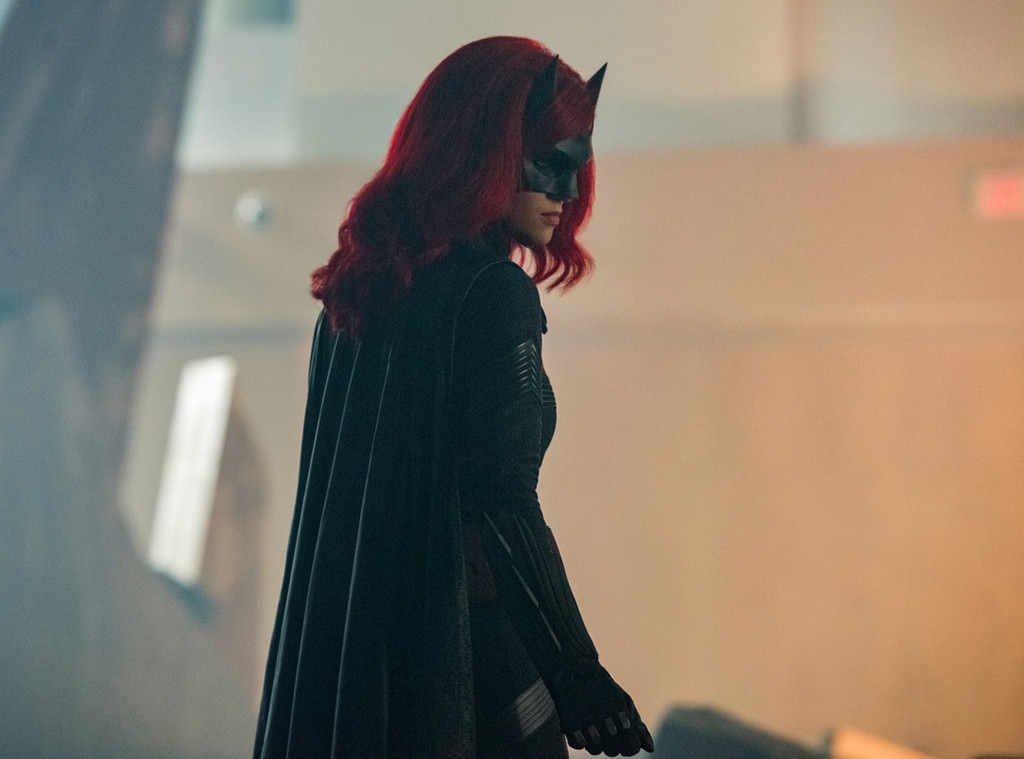 The CW
Batwoman
"We have some fallout on Batwoman. It's a little tricky because our characters aren't yet exposed to this notion of multiple universes and superheroes with powers and stuff, so there's a fine line, but I think it will have a really kind of shocking resonance," said showrunner Caroline Dries.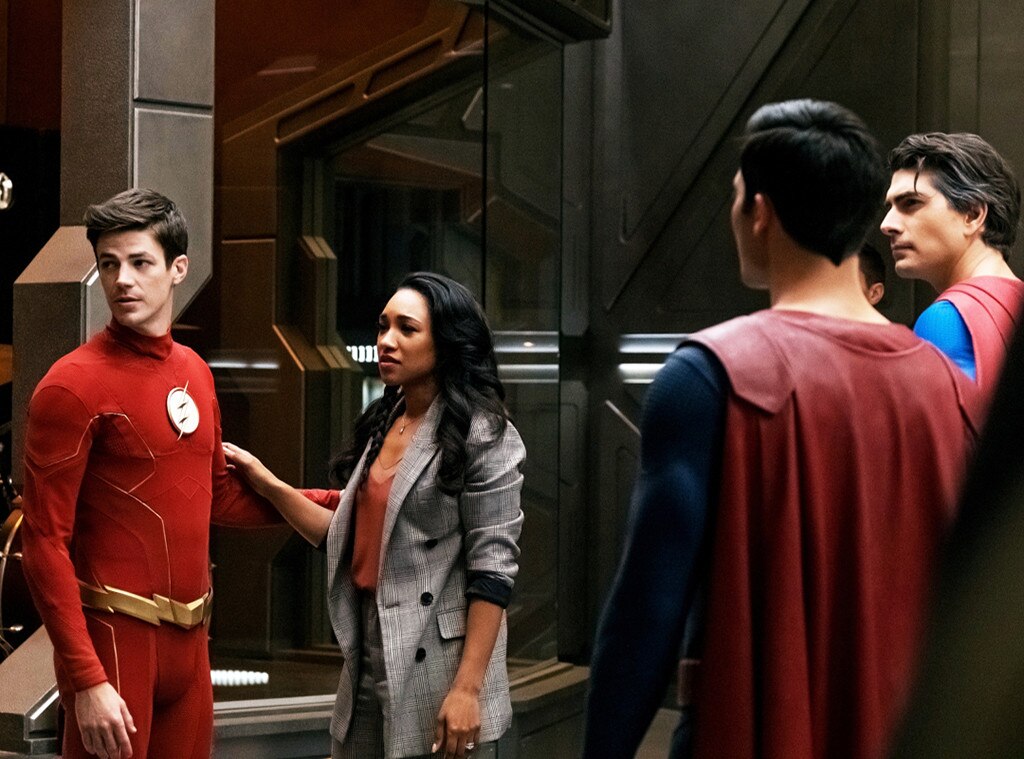 The CW
The Flash
"During the Crisis, Barry will do something that is very significant that will have ramifications for the remainder of season six of Flash," said executive producer Marc Guggenheim.
Article continues below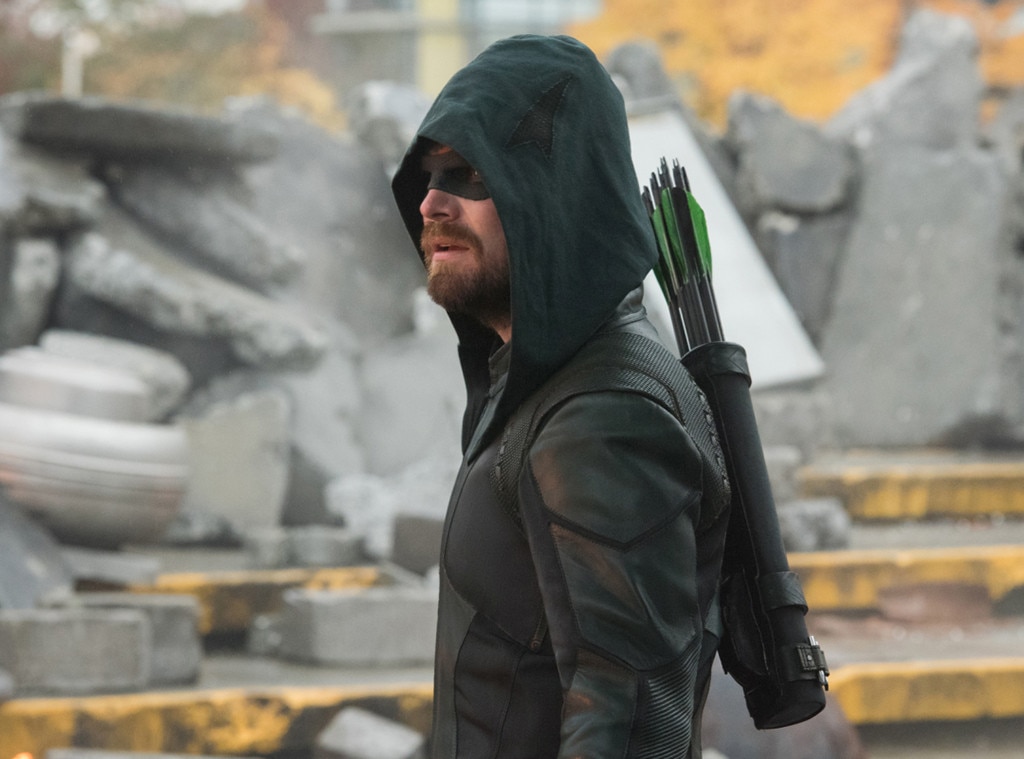 The CW
Arrow
"It changes literally everything on Arrow," said showrunner Beth Schwartz, and Kat McNamara echoed that. "It really does change everything. It's all about sacrifice, and all about everything that has been built over the last eight years, and this whole universe that started with Oliver on the island…they'll come to a head and change forever in a lot of ways."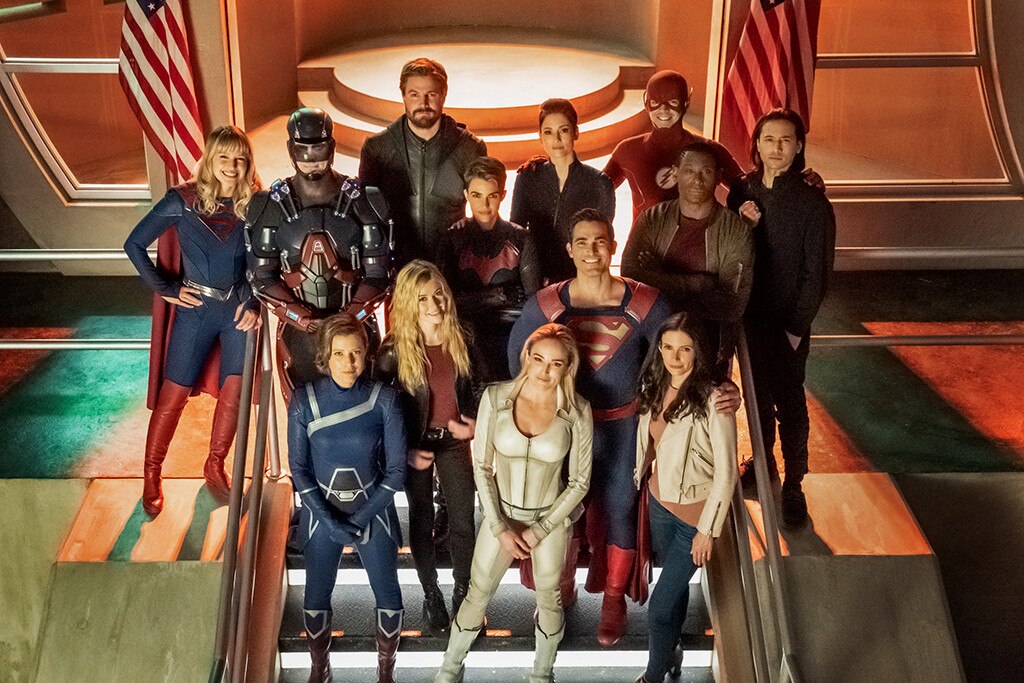 The CW
Legends of Tomorrow
"As our prequel, it sets up our season, both mythology and Sara Lance's trajectory coming out of it…this hits her pretty hard in a good way," said showrunner Keto Shimizu.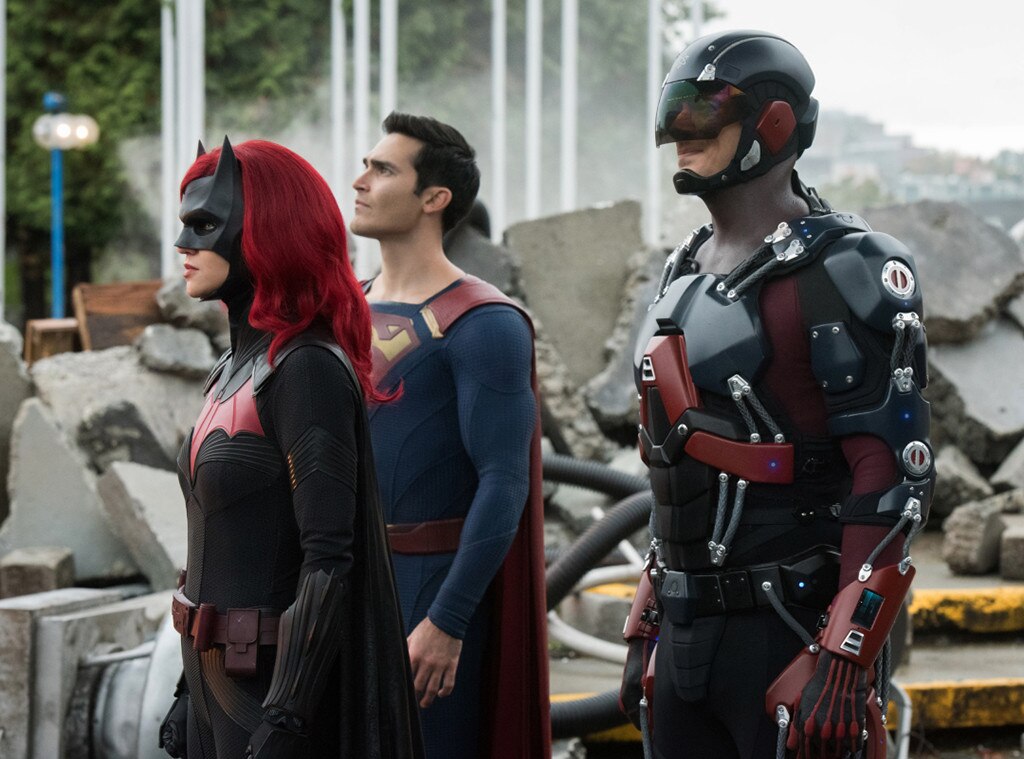 The CW
Prequels and Sequels
Crisis has been teased since last year's crossover, so the showrunners had quite the storytelling trick to pull. It serves as a prequel to Legends of Tomorrow's season five, and is also a major part of Arrow's series ending. The crossover wasn't fully written before the Legends writers room came together or before many of the episodes leading up to Crisis were written, so putting it all together was, to quote Marc Guggenheim, "Weird."
Article continues below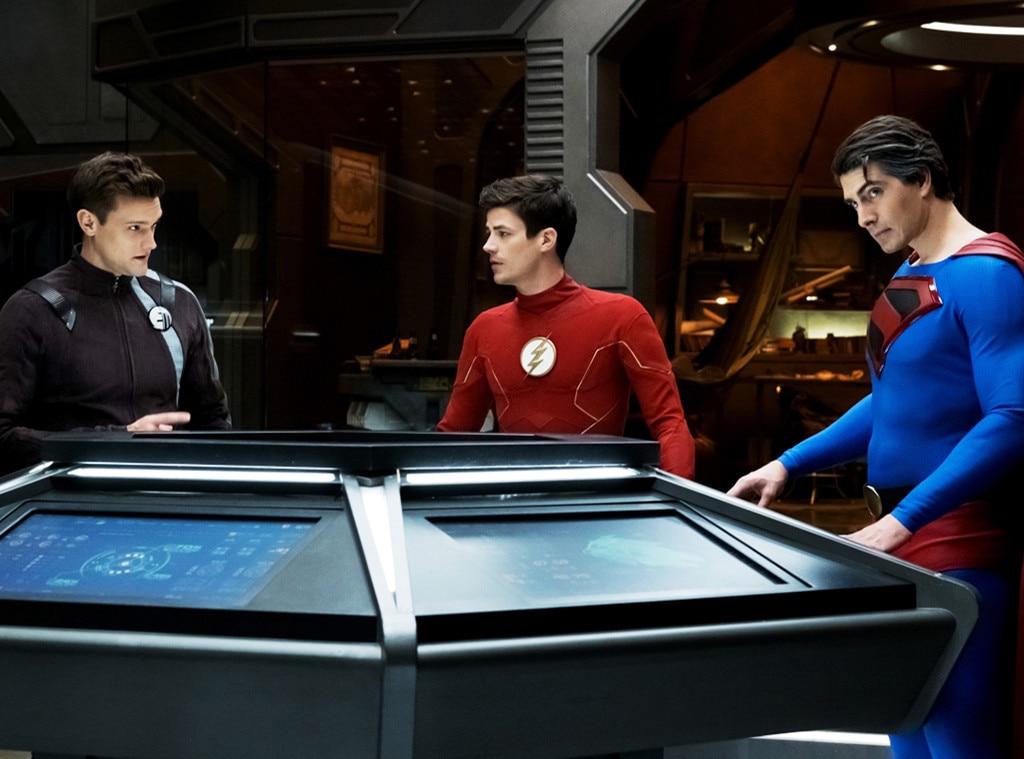 The CW
Emotionally Significant For Everybody
While the cameos and unexpected team-ups are fun, the writing teams were determined to make sure that "at the core of it, we really wanted to keep track of the mains from all of our shows and have them go through something really incredibly significant for their character," Shimizu says. Some real s—t is going down in this crossover, and you can trust us on that.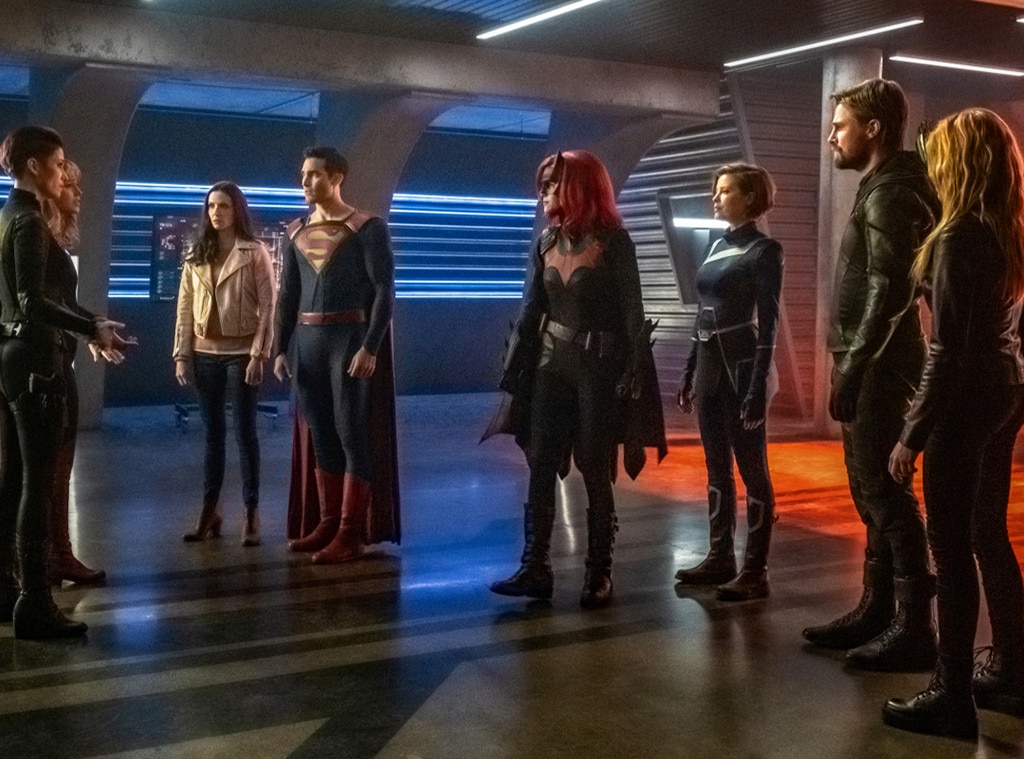 The CW
A Scheduling Nightmare
Just how do you manage the schedules of every single cast member of five (or six or seven) different shows? Guggenheim says it's way more low tech than you might think and it involves many scraps of paper on a board filled with multi-colored boxes—one color for each show. "We literally sit there with a paper cutter and move literal strips of paper" over the course of several days, he explained.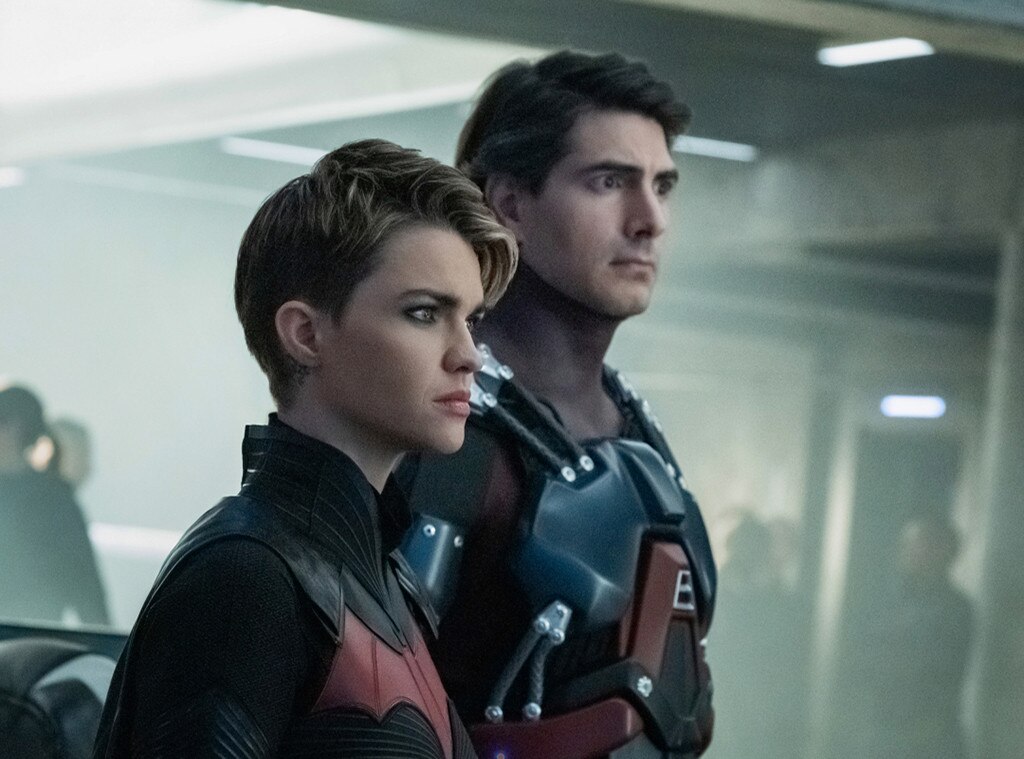 The CW
A World-Changing Opportunity
The comic the crossover is based on was a chance for DC to reset 50 years of continuity. The Arrowverse is only eight years old, but Guggenheim says, "The way we sort of looked at it was it's an opportunity to if we want to fix something, it's there, if we want to change something it's there, if we want to set something up, it's there." So truly, anything could happen.
Article continues below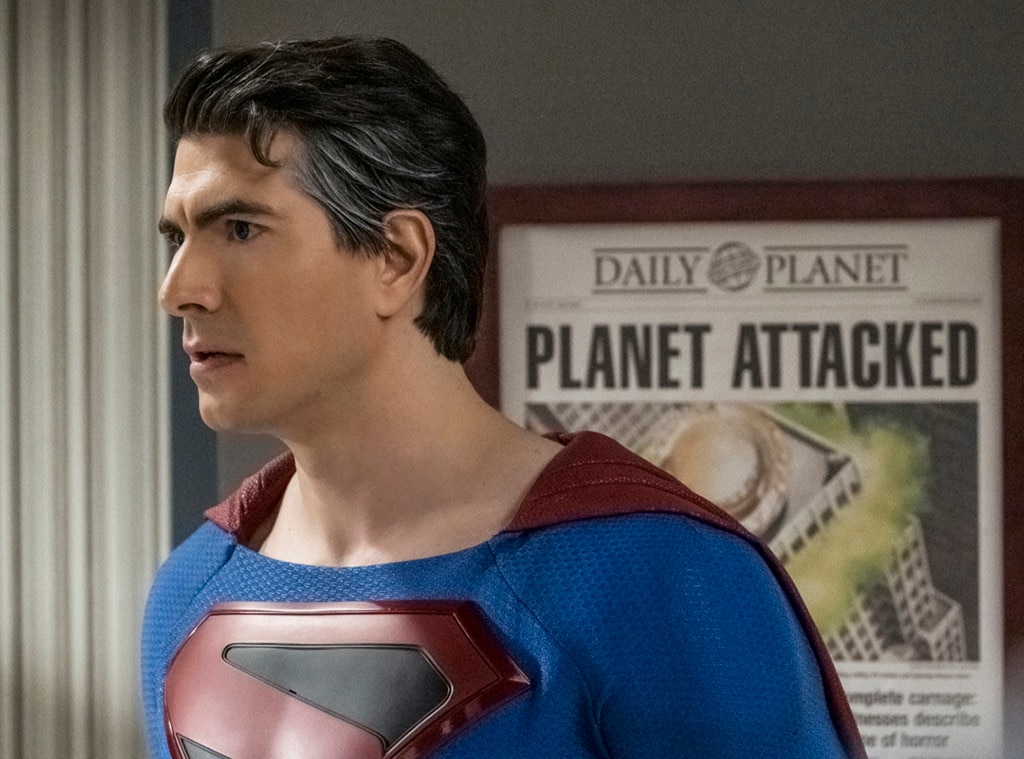 The CW
Expect Many Nods to the Comic
The Crisis on Infinite Earths comic killed off Barry Allen and Kara Danvers and merged all of the earths, and while this version is not going to do all of those things (probably?), there are plenty of nods and similarities, including the fact that each episode represents one of the 12 covers from the comic. "It's our version of it, but it's definitely meant to be evocative of the original," Guggenheim said.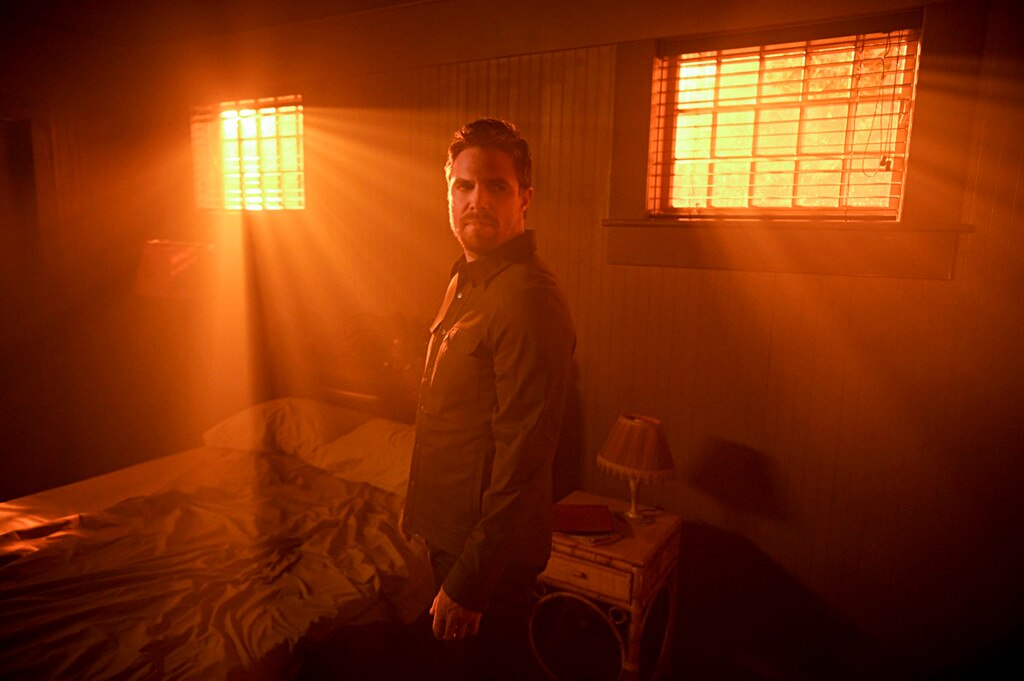 The CW
Arrow's Goodbyes Continue
Oliver had moments with most of Team Arrow in the last pre-crossover episode, but the crossover will also give Sara Lance a turn, which was particularly important to Legends of Tomorrow's Keto Shimizu and Arrow's Beth Schwartz, "in order to remind the audience how far they go back, and how embedded her history is with his, and how important he is to her." Plus, Sara gets to see Oliver as the father he now is.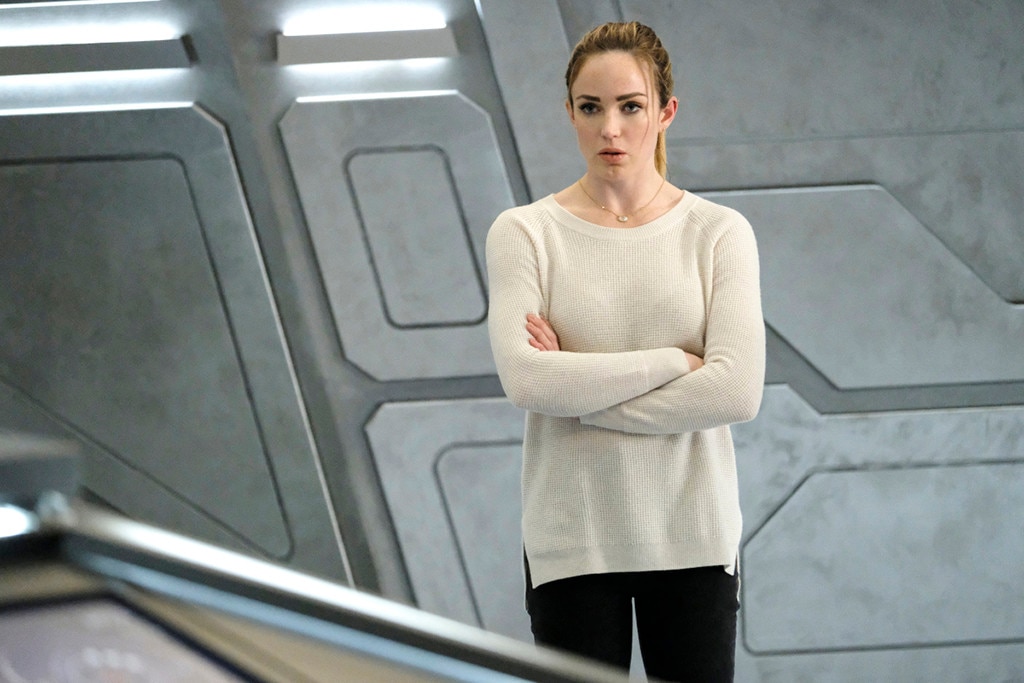 The CW
Mia, Meet Sara
Mia's introduction to Sara is particularly important, since Sara is such a huge part of Oliver's past. "She and Mia are very similar people in that they both are very strong-willed and they both will not hesitate to speak up and fight for what they believe is right, and for what they believe is the right thing to do, no matter who tries to stand in their way." They work together in a "unique way," McNamara says.
Article continues below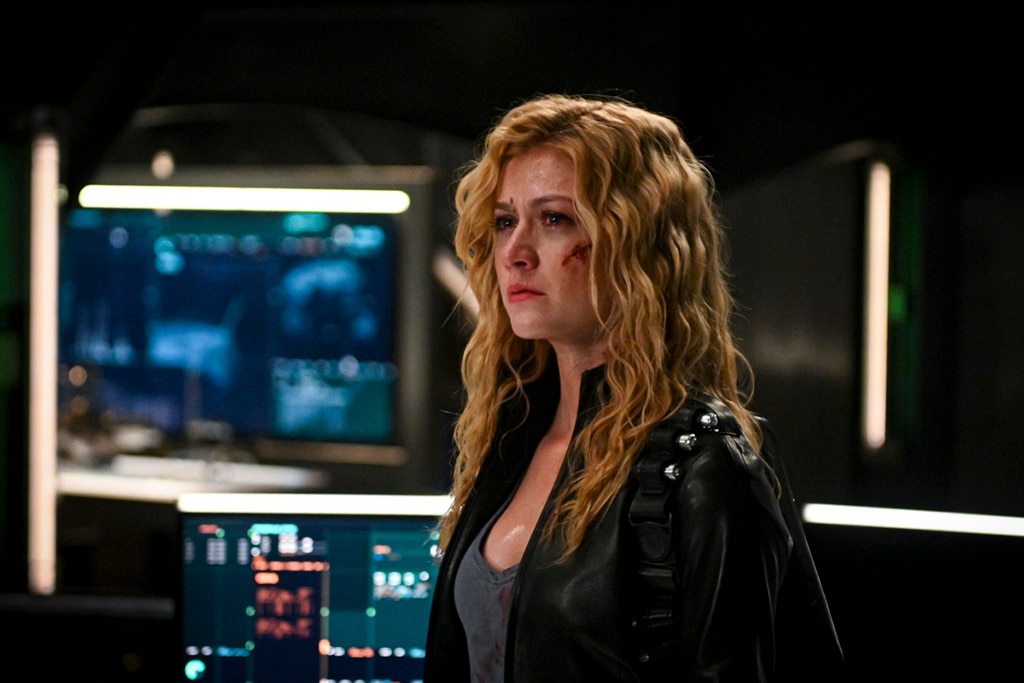 The CW
Crossover Newbie
Mia Smoak hasn't been a part of the crossover before, so this will be a lot to take in. "She grew up in the woods with Nyssa Al'Ghul, and suddenly she's on a spaceship," McNamara says. "Confronted with superheroes and aliens…she's trying to grasp some sort of logic and understanding in all of this, while dealing with one of the most traumatic experiences of her life." Having dad Oliver there definitely helps, at least.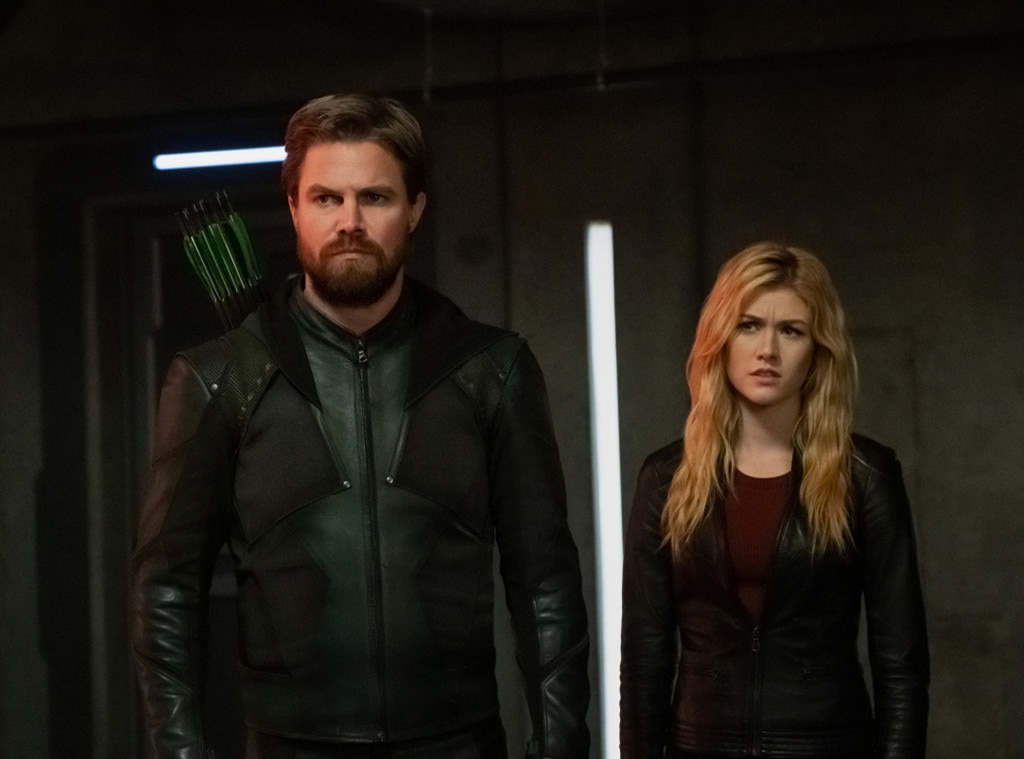 The CW
A Father/Daughter Goodbye
Mia's still coming to terms with Oliver's fate, but at least she now realizes she can forgive him and just keep going. "There's a potential that it could all be ripped away from her very quickly and far too soon," Kat McNamara told us. "I think she understands that there's not much she can do, but she's not gonna go down without a fight."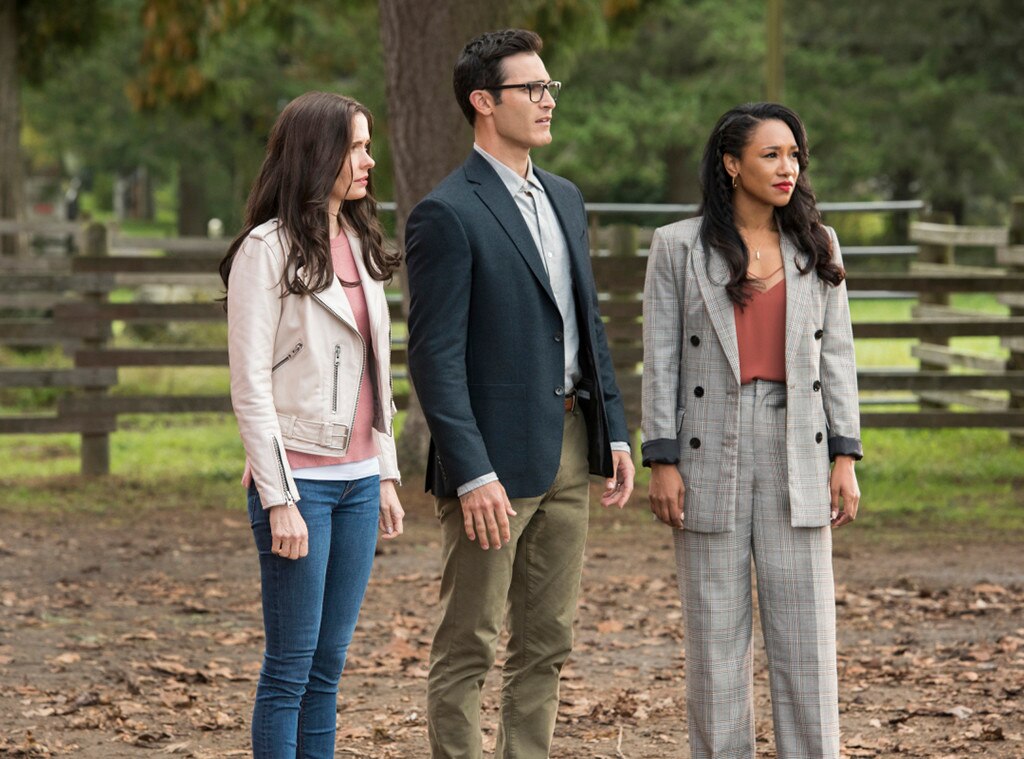 The CW
Super Parents
Much has changed for new parents Clark and Lois, and for Bitsie Tulloch, who was six months pregnant while filming last year. "Just the fact that I wasn't throwing up on set was a huge win for me last year…so yeah, [this year] was much more fun," she told us. But more than that, "the stakes are higher" and it felt like "the end of one era and the beginning of another."
Article continues below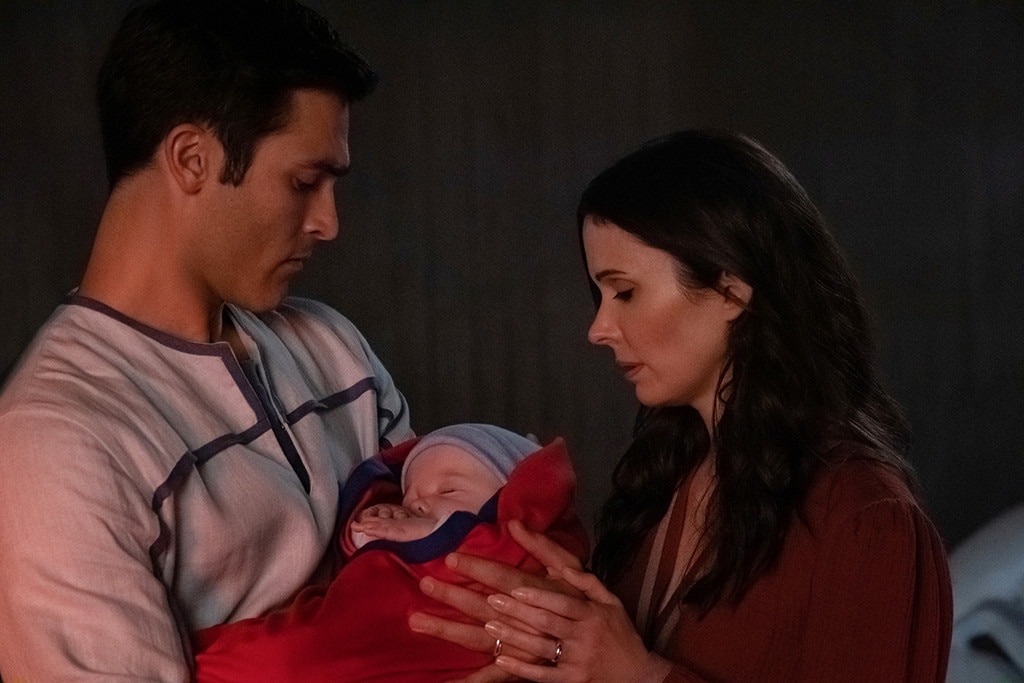 The CW
Baby on Board
The new baby adds both drama and comedy to the crossover. "As a new parent myself… you're scrambling all the time. It doesn't matter how big of a superhero you are, like when a baby's crying, you don't necessarily know how to make the baby stop crying. I think it's going to be really fun for the fans, seeing Superman being a new dad. It's really cute, and Tyler was just so darling," Tulloch says.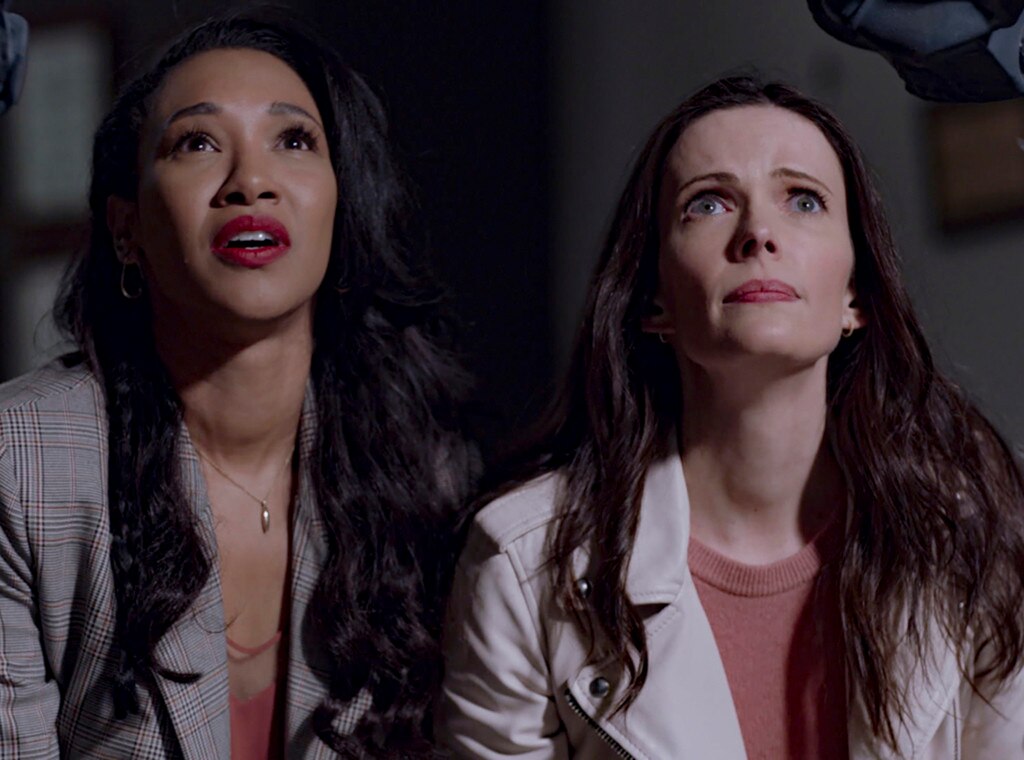 The CW
Journalists Unite
While Lois will always be putting her baby first, she gets a chance to work with fellow journalist Iris West-Allen. "They worked really well together," Tulloch says. "And I think there was a lot of mutual respect, both of them really putting their heads together to contribute to the situation…It's different. Lois doesn't have super powers, other than she's wicked smart."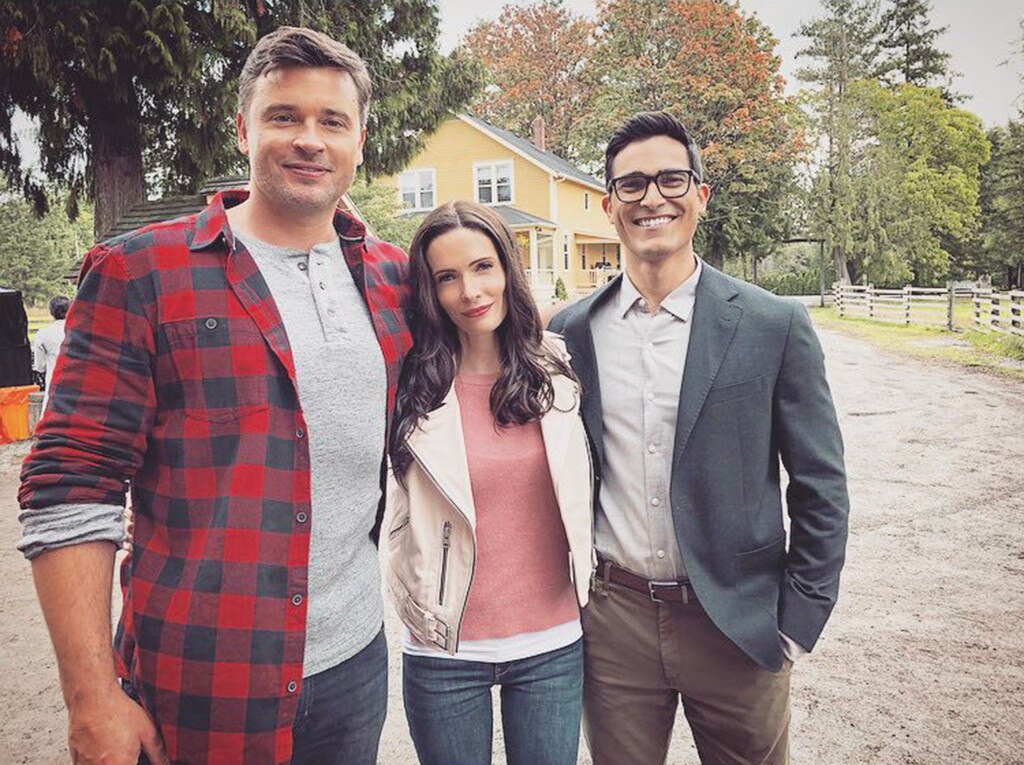 Bitsie Tulloch
A New Lois
Clark and Lois, who are getting their own pilot, now feel much more established in this universe, and Tulloch felt like the role was a lot more hers this time around. "I did notice I felt like they were writing for me this time," she says. "Some of my lines, I was like, oh, they know I can…it felt like they were writing for me, a little sassy, if you will."
Article continues below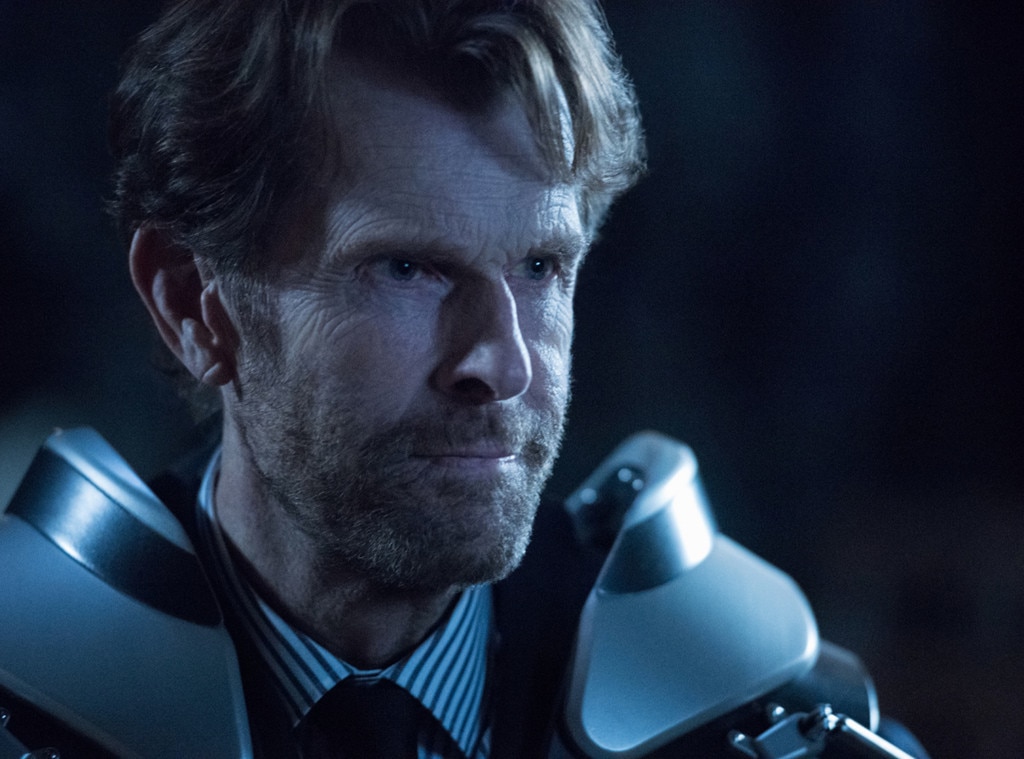 The CW
Surprises Are Still Coming
Guggenheim said that not only are there still cameos to be announced, but some haven't even been finalized and filmed yet. Pretty much anybody could show up over the course of the five episodes, especially in the final two parts, and there's one he's particularly hoping for…but he gave no specifics.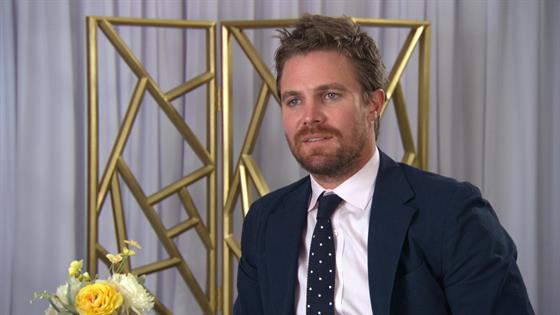 Crisis begins on Sunday with Supergirl at 8 p.m., followed by Batwoman on Monday at 8 p.m., and The Flash on Tuesday at 8 p.m. on The CW.
Source:
Read Full Article